Coal Mining Engineering, Permitting and AMD Treatment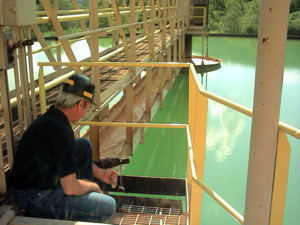 For more than 23 years, Miltech has offered permitting, engineering and operating services to the underground mining industry.
Our permitting services include:
PA and WV Borehole and Shaft Site Permitting
Drill Pad Grading Designs and Material Balance
Anti-Degredation Assessment
Erosion and Sediment Control Design
Our engineering services include:
Mine De-Watering System Designs
In-Ground Reserve Assessments
AMD Treatment System Design
Coal Preparation Plant Assessment & Design
Ventilation System Design
Haulage System Design
Mine Closures Including Demolition, Shaft Filling, etc.
Underground Mine Injection System Design
Currently, Miltech operates five Acid Mine Drainage facilities located in and around the Johnstown / Ebensburg PA area that process a total of about 10 million gallons per day of water. The treatment systems involve lime slaking and underground disposal of solids.